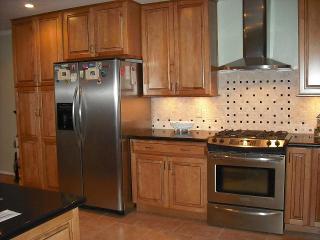 Kitchen Remodel
Working with Ginny Fountain at R. A. Briggs & Co. when planning construction on our new kitchen was wonderful!  She had great ideas that made our kitchen beautiful as well as extremely functional!
Debbie J.
Spring Shadows Subdivision, Houston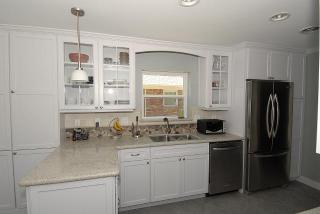 Kitchen Remodel, Bath Update
I love it!  I have so much more usable work space, and the design/layout of that space makes a dramatic difference.  I have room to roll out pie crusts on my new marble counter tops, and my back doesn't hurt from bending over!  There is more light, more cupboard space, and easy access to the materials/utensils I need.  I'm actually smiling as I work.  While no one would claim to have enjoyed the remodel process, I can truthfully state that my experience was as painless as possible.  The original estimate was very detailed, both in terms of cost, and time.  The workers came when they said they would come, did what they said they would do, and were respectful of my home and family.  The entire project was finished within the estimated time frame, and your company made certain that things were  completed to my satisfaction.  We have used Briggs before, and would use them again without hesitation.
Linda K.
Linkwood Subdivision, Houston
Bedroom and Bath Remodel
Ken,
We are already talking about the next project — the kitchen.  The bedroom/bath project far exceeded our expectations.  Your crews were an absolute pleasure to work with.  Even our neighbors have commented on how well they cleaned every day.
Their work –excellent!! The supervisors were such a pleasure to work with on this project.  It is boring now without them. 
Ken, everything you told us- happened! And it happened when you said it would. What a treat. You are "a man of your word", Thank you.
We are truly a very satisfied customer.
We'll be calling you for the next project.
Chuck and Lynda Blount
Paint and Exterior Repairs
We are very satisfied with the recent major paint and repair work you did on our house and garage. 
As with earlier projects you performed for us the work was well done and completed in a timely manner.
Since remodeling work charges were in line with other bids we had received we felt no need to look further for other bids on this job.  We appreciate your method of submitting an estimate broken down in segments to choose as we see fit.  We will continue to recommend your company to others.
Audrey Middlebrook
We have used the R.A. Briggs Company for several projects and found their work to be excellent and organized efficiently so as to minimize in disruption in our lives during the projects. Their supervisors stay on top of the work and assure customer satisfaction.
Bob P.
Dear Ken,
Please tell Gary I was extremely pleased with you and your workers.  You responded imediately, on time, excellent work from start to finish with a perfect job well done.
I felt your cost was in line and you oversaw that each job was well done and the clean up was perfect.
Ken, it was a pleasure to work with you and your company.
Tomy
Gary,
Thank you so much for replacing my door.
It really means a lot to me to be doing business with an honest company that stands behind their work.  This is so rare in today's world.
Florrie O.
Dear Mr. Gary Briggs,
This is to thank you for the quality of your performance in the repairs and renovations you just completed at my residence.
Your workers were extremely COURTEOUS; they kept everything CLEAN at all times; they were skilled CRAFTSMEN.
The project was completed much faster than you estimated and you volunteered many greatly appreciated extra touches which were beyond the scope of your contract.
You may refer to me and my wife, Jeanne, as very satisfied references.
Morton L.
Gary,
Thank you. Your company's work is always great. I will continue to recommend you.
M. LeBlanc
I'm writing to say a very big THANK YOU to your team of carpenters: Raul and Selvin.
They did several projects for me today, and I'm extremely happy with their work.  They were courteous, very professional, and seemed determined to do the very best possible job for me.  Their competence was exceptional – I had expected the projects to take two days, but they did them all in just over half a day. Fantastic.
I've already told a couple of neighbors about them, and at least one said they he will be calling you to do some projects for him.
I now have very high expectations for the job that your painters will do to complete the overall job.
Again, many, many, thanks to Raul and Selvin for a great job.
Don E.
Dear Ken at Briggs,
I had to write because your company has renewed my faith in humanity and workers in the service industry! Everything went according to plan and beyond the low expectations we usually have come to expect! Thank you so much for changing that assumption! We will definitely select Briggs for any work we need in the future! Everybody was so conscientious and professional.  You can continue to be proud of your original goals! They were met in this case. Thank you very much!
Kathy and Jim H.
We were very pleased with the attic stair job you did for us and we will certainly call on you again.
Lloyd B.
Master Bedroom and Bathroom Remodel
You are correct, your employees are an extension of your company.  They are excellent!
Elizabeth M.
Meyerland, Houston
Interior Sheetrock Repair and Paint
I would have no other company. You are the best!
Mary Ann L.
Sharpstown, Houston
Interior Sheetrock Repair and Paint
Keep it up!
David M.
Westchase, Houston